Middle and Eastern Europe Best Photobook of 2017–2018 Award (under European Month of Photography) shortlisted
(Bomb shelter pointers in Ukraine:
documentary art-project)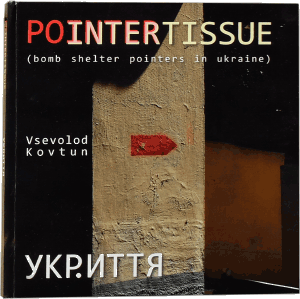 HARDCOVER BOOK:
Dimensions: 8×8 inches (20.5×20.5 cm)
Pages: 168.
Number of photos: 163, colour.
Paper: coated matte.
Cover: hardcover (colour, laminated).
Language: English, Ukrainian.
ISBN 978-966-281-101-8
Buy hardcover copy from me!
E-BOOK:
Size: 36 MB.
Language: English.
ISBN 978-966-281-105-6
Buy e-book on iBooks / App Store (ePub format – Mac, MacBook iPad, iPod touch and iPhone)



Buy e-book on KOBO (ePub format – all types of gadgets)



Buy e-book on Amazon (Mobi format – Amazon Kindle gadgets only)


When seven decades after the World War II, Ukraine was forced to recall the bomb shelters, alarming red signs with the word «УКРИТТЯ» («UKRITTYA» – shelter) painfully stabbed walls of remained unoccupied cities.
The further events didn't solve the problem, but only suspended the situation. The arrows stay on the walls as bullets in a human body, to which the hands of physicians have not yet reach.
And as how with bodies living tissue will cover up bullets, the bullet like shape pointers become overgrown urban artefacts, while remaining constant Memento Mori.
(The photos were taken 2014–2017.)
Now you order book directly from author. This will allow you get, if desired, signed copy.
4 steps to buy from me:
You send me an order using form below.
You receive e-mail with link to official invoice on high security PayPal site.
You pay. (Note: you don't need a PayPal account to pay. You can pay via PayPal or with your bank account or your credit/debit card in any currency).
For hardcover book: I send you book via ordinary mail and track-number via e-mail.
For any device (tablet, smartphone, e-book reader, notebook, table-top, etc.) except for some models of Amazon Kindle, – will be right out to take EPUB.
EPUB is a technical standard for e-books, can be read, for example, by the Kobo eReader, BlackBerry devices, Apple's iBooks app running on Macintosh computers and iOS (iPad, iPod Touch, iPhone), Google Books app running on Android and iOS devices, Barnes & Noble Nook, Amazon Kindle Fire, Sony Reader, BeBook, Bookeen Cybook Gen3 (with firmware v2 and up), COOL-ER, Adobe Digital Editions, Lexcycle Stanza, BookGlutton, AZARDI, FBReader, PocketBook eReader, Aldiko, CoolReader, Mantano Reader, Moon+ Reader, the Mozilla Firefox add-on EPUBReader, Lucifox, Lucidor, Okular and other reading apps.
MOBI is a specific Amazon Kindle format.
I would like to take this opportunity to note, that using gadget witn monochrome display for my photobook reading is a bad idea.
Signed and non-signed hardcover book is of one price.